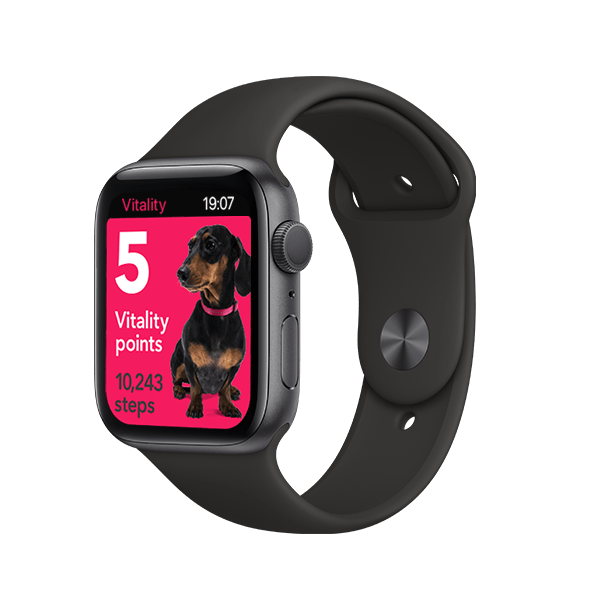 Life insurance with rewards for healthy living
Protect what matters most to you and your family, with our 5 Star Defaqto Rated cover.
Get active to get rewarded with
Apple Watch
. Available on life insurance plans with Vitality Plus benefits. These plans start from £45 a month excluding any Vitality Plus fee.
Get a quote
What is life insurance?
Life insurance helps your
family
with their finances if you die within the policy term. Your family will get a tax-free payout, giving you peace of mind that they're looked after.
Most people buy life insurance when they're having a baby, buying a house, marrying their
partner
, or nearing retirement.
If you're buying a home, it's also a good idea to think about life insurance to cover your
mortgage
, too. If you die before you've paid off your mortgage, then your family don't need to worry about the monthly repayments.
New to life insurance? Our expert team of financial advisers can help
Get the best life insurance to suit your needs. Call us on 0161 216 7595
Call me back
What are the different types of cover?
Choose a type of cover or combine them for more a comprehensive plan.
Not sure which life cover is best for you?
Why choose our life insurance?
✓ Get up to 40% off your first year's premiums
- Up to 30% off term life insurance premiums. And up to 40% off whole of life insurance premiums. Plus, you could continue to keep your premiums lower if you track your healthy habits
✓ 5 Star award winning cover
- All our life cover plans are 5 Star rated by Defaqto
✓ You can rely on us
- Last year we paid out 99.5% of claims
1
✓ Get discounts and rewards for healthy living
- Save on gym fees, activity trackers, coffee and more
✓ Get Apple Watch
- buy a qualifying plan and you could get an
Apple Watch


✓ You're covered for more conditions than any other insurer
– With us you're covered for all heart attacks, all strokes and more cancers than any other provider
2
.
Get a quote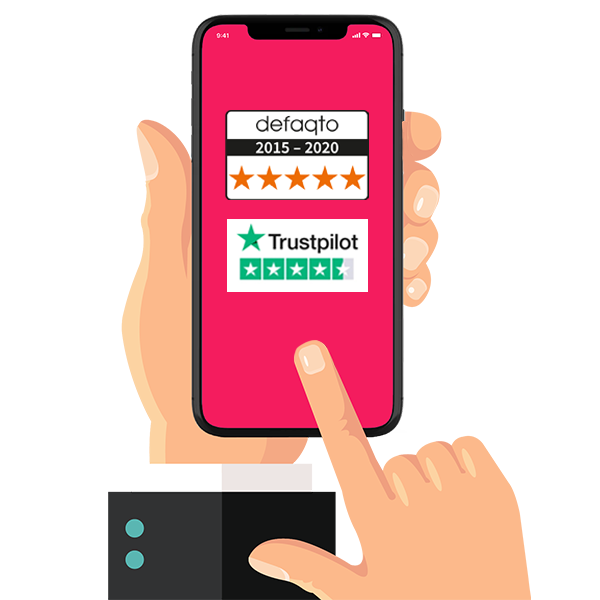 FAQs
Why should I buy life insurance?
For many people, life insurance is an excellent way to protect the things that matter the most – such as making sure your family's financial future is more secure if something unexpected happens to you. It can also help to protect financially against critical illnesses, the loss of income if you get ill, or to ensure your mortgage repayments are covered if anything were to happen.
How do you work out the price of my life insurance?
Your premiums are based on lots of things, such as your age, height and weight; your health; whether you're employed in a high-risk occupation; and whether you smoke. Cover with VitalityLife can start from just £8 per month but can change depending on such things as the amount of cover you need, the amount of time you want to be covered for, any pre-existing medical conditions etc.
Can I add Critical Illness Cover to my plan?
We don't offer Critical Illness Cover, we offer
Serious Illness Cover,
which is different as it pays you out for less severe conditions as well as critical ones. Serious Illness Cover gives you a percentage of your cover amount based on the severity of your condition. This means we're able to pay out on a wider range of illnesses - not just the debilitating or life-threatening ones covered by typical critical illness policies.
With us, you can include Serious Illness Cover with Life Cover or take it on its own. The level of Serious Illness Cover you'll need depends on a few things, so we recommend talking to a VitalityLife adviser first.
Can I change my plan if my circumstances change?
Yes. If your circumstances change you can increase your cover or buy extra policies. You can also choose to add indexation to your plan at no extra cost. Indexation protects you against rises in the cost of living, making sure you always keep the level of cover you need and increases your cover each year without the need to go back through our application process. You can also choose to opt out of any future increases.
How long should my life insurance cover be for?
It's entirely up to you. We offer a minimum term of five years or a term that covers you for the rest of your life . Most people will align their length of time with when they expect their mortgage to be paid off. You can then continue to reassess your protection needs as your life circumstances change.
Do I need to have a medical exam before I take out life insurance?
Not necessarily, but you must tell us about any medical conditions as part of your application. If you don't suffer from any conditions you may not need to have a medical.
How much life insurance cover do I need
This will vary depending on your personal circumstances. Have a think about:
- How much is left to pay on your mortgage
- How much other debt you have to pay
- How much you would need to pay towards childcare or education
- How much your loved ones would need to maintain their lifestyle
- How much you may need if you get a critical illness
- How much you can afford
You can find out more
here
, otherwise if you're new to life insurance it can be a good idea to get tailored advice from a qualified financial adviser. Our expert team can offer free no-obligation advice over the phone on
0161 2167 595
What's the difference between level, decreasing and indexed life insurance?
This is used to determine the structure of your plan and the value that it's worth over time. The monthly premiums you pay may change depending on this.

Level cover means that the value of your plan stays the same over time. It will only change if something happens such as you make a claim or change your cover.

Indexed cover means that the value of your plan will increase each year to align with inflation and rises to the cost of living.

Decreasing cover means that the value of your plan decreases over time. This may align with decreases to your mortgage amount as you continue to pay it off.
Our additional covers and options
Family Income Cover – provides your family with a set monthly income if you fall seriously ill or die. You can choose a payment period of up to 10 years and increase your cover in line with living costs. Family Income Cover can be added onto Life Cover, Serious Illness Cover or Income Protection
Optional Serious Illness Cover for Children – pays you a cash lump sum if your child suffers a serious illness. You can get from £15,000 to £100,000 cover for each child named on your plan and can be added onto can be added onto Life Cover, Serious Illness Cover or Income Protection
LifestyleCare Cover – can be added onto Life Cover and gives you financial help at times when you can no longer look after yourself due to degenerative illnesses like dementia, Parkinson's, Alzheimer's and stroke.

Get a Quote
All it takes is a couple of minutes.
Get a quote

Call us on


0161 974 2517
Speak to a VitalityLife adviser for tailored advice.
Lines open:
Monday to Thursday 9am-7pm, Friday 9am-5pm, Saturday 10am-2pm
Sunday and bank holidays: Closed
Request a call back
Sources

1
Vitality claims and benefits report June 2020

2
This comparison is based the differences between Serious Illness Cover and other covers. These are interpreted by VitalityLife and Defaqto at 11/11/2019. The comparison excludes any special offers or promotions
This cover comparison information is for personal use and is guidance only. It isn't a contractual representation, warranty or obligation about the:
Completeness;
Accuracy;
Reliability;
Suitability;
Or availability of the comparison.
Neither party accept any liability for:
Errors;
Omissions;
Direct or consequential loss in relation to this comparison.
View errors